One of my suggested ways of getting rid of a lot of physical paperwork clutter is to keep only what is important and to scan in anything else that might be needed. Scanning in your paperwork allows you to keep access to papers and information that might be needed at a later date (old and new tax information, bank statements, pay stubs, etc) through your computer and clearing out boxes or filing cabinets full of old paperwork.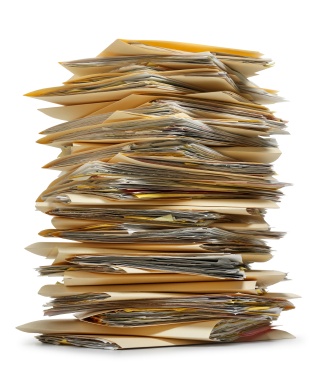 An added bonus of this method is that if you do not yet have a good filing method for keeping track of your paperwork, scanning in your paperwork provides a great time to get started. You can make folders on your computer for different types of paperwork or even use free or paid for software that can allow you to annotate or keep a more complex filing system up to date. One that I reccomend, and use on a daily basis, is
Evernote
(I have no affiliation with Evernote, I just find it to be the best solution for many people's needs - including my own). Using this free software you can scan and upload documents, add keywords, or tags, that let you easily search through the many documents later for the one you need.
Interested in learning more about Evernote? Let me know – I can develop a step by step guide for use if enough feedback is received.
When getting rid of paperwork after scanning and uploading you want to consider how to safely dispose of any paperwork that might contain sensitive personal information. We want to get rid of clutter – but we want to do so safely and responsibly! For documents like tax returns it may be necessary to shred the papers so that you are not throwing away pages of papework that have your personally identifying information on them. These can generally be found at office supply stores or at online stores for a reasonable price. There are also serivces that will come to your home and shred your material – it all depends on how much you have and how often you would be doing this.
Remember to err on the side of caution – there is no reason to throw out information that could be used in a harmful way. We want to get decluttered, but do it safely!
If you are interested in more information on Evernote and how to use it for organizing paperwork, leave a comment or send me an email.
Top 3 ways to reduce your physical paperwork quickly:
1. Consolidate your paperwork into one location - having it spread out makes it too easy to allow it to grow uncontrollably!
2. Take paperwork out of envelopes and other extraneous holders - keep only the actual papers that you will need for reference
3. Go through your mail as soon as you get it, sort it and deal with it ASAP; do not allow paperwork to accumulate from now on!
For more tips and information on how to effectively deal with paperwork in a sustainable fashion, consider reading the Get Rid Of Clutter Today Ebook which includes an entire section on paperwork management and reduction.